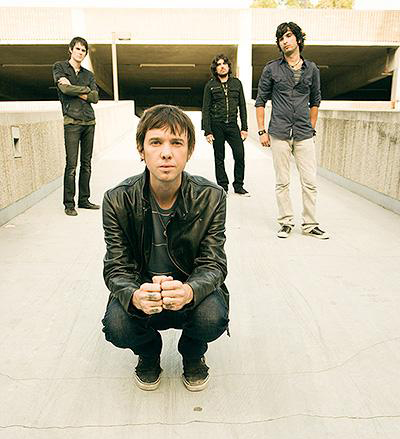 I'm super excited to announce that RadioZoom will be having the opportunity to interview Sparta when they are in town for their show at Richards on Richards this weekend. I have officially made Rebecca my go to public relations person for the podcast, and she has delivered big time, no doubt about it.
Like many fans of the band, I've been a fan of Sparta since the day they formed. No, I wasn't one of those cool kids with my ear to the underground and knowledge of all things good. Well, maybe just a little bit, but when the forever memorable At the Drive-In[wiki] split up, Sparta was formed by three guys from the band. If you've ever heard the name The Mars Volta, that is what the other two members went on to. However, Paul Hinojos left Sparta nearly a year ago to join The Mars Volta.
In 1999, I went to my first CMJ Music Marathon in New York. The Foo Fighters were slated to play at the Bowery Ballroom in a somewhat early show, so a bunch of us stood in line for a few hours to check them out. More impressive than seeing them on stage was the opening band which none of us knew a lot about, and they were seemingly insane. Amazingly good, but insane.
Sad to say, I never knew who they were for months afterward. When we got At the Drive-In's new album at KRUI a little while later, I started to piece it all together. That band I saw, with the afros and craziness on stage, was At the Drive-In.
I've been keeping tabs on Sparta since their first album, "Wiretap Scars", and their two follow up albums have yet to disappoint me. Their most recent release, "Threes", is available in stores now. I've had a listen through just a few times, so it is hard for me to really convey a decent review of the album. However, I assure you, it's way, way good.
The most interesting part of doing this interview is the way Sparta has embraced new media. Their involvement with their website is very noticeable, connecting to fans in this highly digital age with podcasts and embedded videos to send out information to fans. My hope is to explore their reasons behind it and geek out with rock stars a little bit.
It is because of this that we think they have given the green light to meeting Rebecca and I for a brief conversation before their show on Saturday night. The scope of RadioZoom is always exploring new avenues, and the recent interview with Aberdeen City is a prime example of that. It feels good to be getting back into the realm of interacting with musicians, like I did during my time in radio, but we can try so many different things through podcasting that you simply can't on the airwaves.