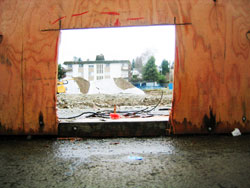 It's pretty much a done deal. I'm working on a new design to my site. To actually announce this and have it come to light are too completely different things. If I had all the time in the world, I could do this in a matter of days. Ok, that might be pushing it ever so slightly, but I could probably do it if I gave no precedence to anything else such as getting out of the apartment from time to time.
There are other, more pressing things going on right now that truly take precedence. Rebecca would have my head on a platter if I didn't make it known that I understand this quite greatly. In a short matter of weeks, some of my family will be here for my wedding. Yes, my wedding. The Reverend Don Deeley will be flying in from Pittsburgh, Muffin and Bill! meeting up with David Duke in Seattle (where he lives now, I might add) to make the car ride up for the event. Planning, plotting, deciding, thinking, discussing, and lots of other things to get into place before the day. The day which is just weeks away now. Combine that with my online endeavors and there just isn't a whole lot of time for anything else.
I've had a flood of thoughts coming from the Vancouver podcaster meet up on Friday. It was so surreal to be around such an incredible group of individuals, all with their own insights of what he or she wants to do with this new medium. From making money to just having fun, there are so many elements about podcasting that you cannot have one theory about. It's kind of like life; it is what you make of it.