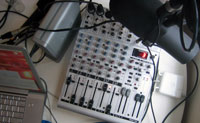 I've been spending a heck of a lot of time lately on the non-programming elements of my podcast. The biggest piece of news is that radiozoom.net is the new URL for the website. I'm working more and more at separating my podcasting from this site. It works better in terms of the marketing portion of the whole project. When you are a one man band, there's a lot to consider when it comes to every element of your podcast. Promotion, marketing, producing, and hosting, it can be quite the process.
I've gone to RadioDaddy.com to experiment with what talent I might be able to find there. If you don't know about it already, you can submit scripts for voice talent to record and send back to you for free. It's a great service, but the combination of my audio editing talents and voice over experience finds me being really picky about what I've been receiving.
The structure of every episode has been pretty static until now. I'm experimenting with the flow of a typical podcast as well as the ventures in soundseeing and video podcasts. Until I get feedback from subscribers about what they don't like, I'll just keep doing what I'm doing.
What I really need is a new logo. The one I made in the first place isn't cutting it for me anymore. That's a whole other issue when I start slipping into marketing mode, figuring out what makes a good logo, something that can be a stand alone logo without lettering, color schemes, etc. I'm open to any and all suggestions, but be warned. I'm picky.
Quit your day job? This is my day job. Well, at least until the government says I'm legal to work in Canada.