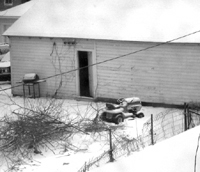 I don't know how to express the saddness that has come into my heart. It happens time and time again, and this time is no different. My favorite, commercial, independent radio station in the world has been sold. WOXY has given into the pressure. Forever will it be gone from the greater Cinncinati air waves. The station, equipment, and frequency is being dismantled by a corporation in Texas. They vow to stay alive on the internet via webcast, which is how I have always listened to them, but seeing the last of a truly dying breed of radio to fall victim to this "way the world works" is absolute heartbreak. Have you ever seen "Rain Man"? Yeah, this is that radio station. In a dream, this is the station that I would work for in a flash.
I haven't been feeling too well in the past few days. I know of a few folks who have come down with colds and flu-like illnesses, so perhaps my time has come. I took half the day off yesterday, got some much needed sleep, and then ran back into the flames at work. We have so much to do. For every step forward we take, in terms of the technical side of this place, other problems creep up that cause us to take a couples steps back. Frustrating? Yeah, but we'll get it done.
It's so cold, and I know I am whining. The kicker is that the head meteorologist of the National Weather Service stopped by today. She said six to ten inches of snow on Monday. Wonderful!… I can't wait. Although, I do need to get my inner tube back from Grant. I can't let that much snow go to waste.