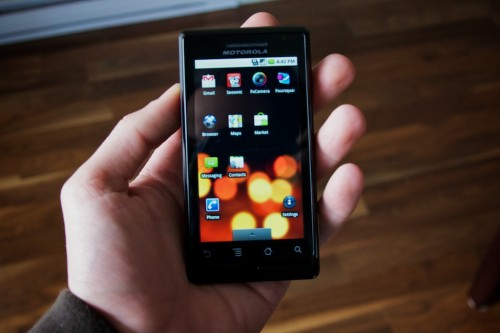 Rebecca was offered to review a Motorola Milestone for a month, but I thought that I would take on the task to put it through some motions, try it out, and give my thoughts on the phone. Being a Blackberry user myself (due to necessity of my day job), I thought I would take the opportunity to try this device out from my perspective while Rebecca already enjoys the touch screen world of the iPhone.

Motorola Milestone, Android, and Telus 3G+ network
For starters, I put this phone to the task on the Telus Mobility 3G+ network, their recently upgraded infrastructure to handle more smartphones like the Milestone. I have no complaints on coverage, speed, or quality while having a one month trial of their voice and data.
Don't have data service? In a location with wireless internet? The built-in WiFi on the Milestone is very good and gives you just as much functionality with all services on the phone as you do on any cell network.
In all actuality, I put this phone to work during my coverage of the Vancouver 2010 Winter Olympics, and it certainly passed without any hiccups that were network related. In some aspects, the speed of uploading pictures for posting on Twitter was impressive. With as many people who jammed up the downtown core during the Olympics, I never experienced any issues.
What I liked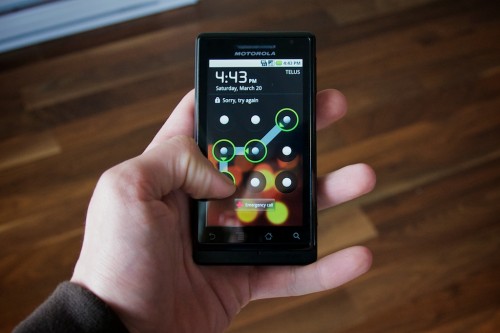 With any mobile phone, it's important to keep your cellphone safe from the wrong eyes. So when it comes to locking this phone to prevent access, the unlocking method with this phone is cool. Instead of being numerically based, you draw a pattern on the screen to get into the phone. Very nifty aspect of this Android phone for sure.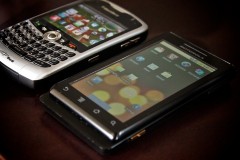 On top of that, Google makes Android, so the syncing of your online account with the phone is slick. Once you go through the setup, your contacts, calendar, and GMail account is all there and ready for you. Update your Google calendar on your laptop, it shows up on your phone, and vice versa.
As a Blackberry user that is tethered to a Blackberry Enterprise Server for my day job, I'm used to features like this, but the Milestone is seamless and comfortable. Without getting into a comparison review, this function on my Curve just isn't as sexy.
GMail on this Milestone is great. I love the way the interface behaves and is quick to understand, but I expect that when Google is behind a device like this.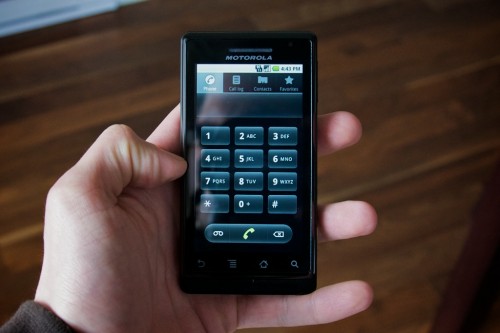 The screen on the Milestone is vibrant. It's bright and detailed with photos, web browsing, and reading text on the screen. Much like the iPhone, multi-touch is in use, so you can zoom in and out on images quickly without too much worry.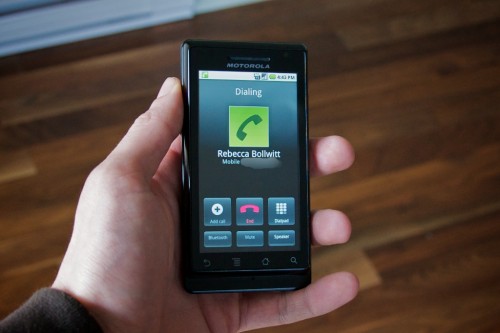 Making and receiving phone calls are smooth. Put the phone up to your ear and the display dims or shuts off to conserve battery power. And when you answer the phone, the Milestone was quick to start the phone conversation without network burps that cause you to say "hello" two or three times until you can actually start having a conversation.
Finally, the Android Market Place is the BlackBerry App World or iTunes App Store of the Milestone realm, and there are a lot of apps out there. While doing my best to try a lot of them out, you can get overwhelmed by all of the variety. Luckily it's all sorted by category and includes a great search function, so here's a few apps that I snagged and put them into full time use.
Sesmic: This is my Twitter application of choice. I tried Twitroid, but kept coming back to Sesmic due to its ease of use and UI. There are a lot of other apps out there you can try, but in terms of free ones, this is my favorite.
FX Camera: Free app that you should replace the default camera application of the Milestone with. Gives you lots of cool effects for post processing of pictures, but it's the "Toy Camera" effect that is probably my favorite. The Milestone has a 5 megapixel camera on it. Use this app to put it to good use.
FourSquare: If you're on FourSquare, you need this app for your Android phone. Fluid, pretty, and a great UI.
UStream: This application is just impressive. The 3G+ network was able to stream live video over the air without too much issue. I attempted this while riding a downtown bus and the Canada Line during my work commutes.
As I said, there are a lot of other neat applications in the Market Place. These were just a few highlights of the ones I liked and used the most.
And the not so much likes
I would have to say that the number one issue for me with this phone was its reliability from an OS standpoint. Simply put, Android is still growing with every upgrade Google releases.
That being said, my main issue came during the first few weeks of using the Milestone and how it would randomly reboot while taking a photo or trying to record video. Later on in the trial, this problem seemed to subside, perhaps due to application upgrades that were installed along the trial.
Probably another negative aspect of this phone was the battery life. One full charge would maybe get me to the end of the day. Heavy use is going to drain it faster, but even no use would bring the battery down to 25% or less. I would chalk this up to services running the background to keep your GMail synced, and more applications that operate similarly (Sesmic, FourSquare, etc.) will drain it even more.
As I already mentioned, the default camera app is disappointing. Many of the photos I took with it were blurry or simply just poor quality. For a 5 megapixel camera, I expected better out of the box.
Maybe a saving grace of the camera on the Milestone is the flash, but it still misses the mark in terms of quality. In low to no light or even full light, the flash makes the shots worse. I was never able to take a photo where the flash made any shot turn out better than without it.
Another aspect of the Milestone that I didn't really care for was the weight of it. While the touchscreen is awesome in terms of function, you really need to hold the phone with both hands to use it efficiently and comfortably.
Even further, the slide out keyboard is basically a waste of space for this device, at least for me. I tried to use the keyboard as a comparison to my BlackBerry, but it never felt comfortable in terms of use or feel. I much rather be completely touchscreen based with the on screen QWERTY touchscreen keyboard. Motorola could have saved on production cost leaving out this feature on the Milestone.
Once again, I end with the Market Place as another aspect of this Android phone that, while makes it pretty cool, can leave you with a sour taste with the Milestone. With Android being as open source as it is, the massive amount of apps you can get also means you can get some that are poorly written, under-developed, out of date, etc. This is the case for all aspects of hardware and the software that runs on it, but it's certainly worth noting the same issues of the iPhone and BlackBerry world are in the Android realm as well.
Final thoughts…
Bottom line, I really like the Motorola Milestone. It's not the end all be all of smartphones, but coming from a BlackBerry perspective, I loved the functionality that I can only dream of having.
Touch screen, multi-touch, great looking display, easy to use, the 5MP camera, syncing to Google apps, and so on. Yes, there are flaws, but I also like the fact that there is an open source community working on making the Android OS better everyday. It's not an iPhone killer but certainly an alternative.
Would I recommend the Motorola Milestone to everyone? It would really depend on the type of smartphone user you are and how much patience you have with a product that is barely a half year old in the real world. In time, I see this phone getting better with each hardware upgrade Motorola does and each OS upgrade that is released for Android.
Disclaimer
I was not paid to conduct or write this review. However, I have received the option of keeping the phone while discontinuing the Telus Mobility 3G+ voice and data service.