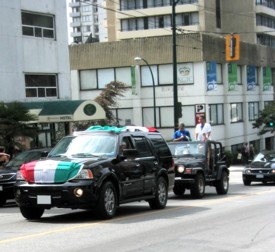 It was an amazing final. And to be completely honest, this is the first time that I've watched the final game in any World Cup be played, yet alone pay attention to one from beginning to end. The '94 tournament in the U.S. got my attention, but my young mind got distracted half way through and never caught the final outcome.
I didn't want Italy to win today[fifaworldcup]. I have not liked their style of play from the beginning of the tournament. Yes, I was cheering for the U.S.A. when they came up against each other, but during the entire match, their acting abilities of taking even the slightest nudge and turning it into a life threatening spectacle made me embarassed for futbol in general. It's such an exciting game until faked dramatics steal the spotlight.
Out of the two teams in the final, this weighed heavy into picking my favorite, France, to take the match. Zidane[wiki] was going to retire, making this his final, professional appearence ever. France won the '98 World Cup and took out the champs from last time around, Brazil, in the quarter-finals. They were hungry. Zidane would want to go out on top. It all seemed to make sense, right?

Zidane in today's action.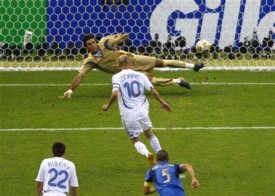 What the hell, Zidane? All was far from lost for France, and you just lost control. Just minutes before he got that red card, we all saw what he could do with a header towards the goal. Buffon[wiki] made the save of the World Cup only to have it dimished when Zidane used that tool of the game as a weapon. I even said to Rebecca that it was almost a "Bertuzzi-esque move", to which she replied that no one's probably going to sue over it.
Shocking. I think I said "I can't believe that just happened" about twenty times until the extra time expired. The penalty shootout didn't even signify the end for France either, but the fact was that Zidane was gone. If France would have won, he wouldn't have been there for the celebration. On top of that, there is no way that you can give him the benefit of a bad call by the officials. You have to give him credit though because in the end, he did go out with a bang.
And at the time of posting this, I can still hear horns honking and cheers for Italy in the west end of Vancouver.