Update: (April 1, 2006)  I'm a sucker. This was an April Fool's joke.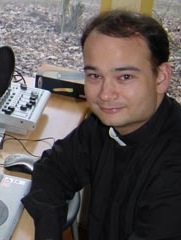 I've been a long time listener of Father Roderick since his early days of podcasting. At that time, he did a lot of live recordings from the Vatican during the last days of Pope John Paul II. They were fascinating, new, and revolutionary in the new medium of podcasting.
Since those days, the Catholic Insider subsided and turned into the Daily Breakfast (check out this Wikipedia entry for some more info), a program created, produced, and hosted by Father Roderick, with new episodes coming out nearly every weekday. He's continued the same passion for the new medium of podcasting with all of his endevours. The quality is great, the material is interesting and entertaining, and he promotes the Catholic faith through subtle ways, making this a program that can cross over many religious boundries.
The people in charge of his diocese in the Netherlands have asked him to cease his podcasting projects. They do not see what Father Roderick is doing as being beneficial to the projects that are going on in the diocese, even though he is able to reach many people around the world. He is currently looking to appeal this decision on this Saturday to his Bishop. Listen to episode #99 of the Daily Breakfast to get the full story, the last fifteen minutes detailing the current situation.
Father Roderick is also asking for testimonial emails from people to give to the Bishop when he meets with him. These messages are meant for the Bishop and the diocese to understand the effect his podcasts have around the world and that they should not be regarded as insignificant.
To provide your support: dailybreakfast@sqpn.com