I have a nephew by the name of Zach that I probably don't mention enough. He is almost ten years old and has a condition known as Angelman Syndrome[wiki]. It's a rare form of a mental handicap that slows the nervous system from developing at an average to normal rate.
Angelman Syndrome (AS) is a rare neuro-genetic disorder named after a British pediatrician, Dr. Harry Angelman, who first described the syndrome in 1965.[1] AS is characterised by intellectual and developmental delay, speech impediment, sleep disturbance, unstable jerky gait, seizures, hand flapping movements, frequent laughter/smiling and usually a happy demeanour. [wikipedia]
Even more rare to the point is that Zach also has a form of albinism. The chance of a person being born with both of these conditions is less than 1%. Our family goes to great lengths to make sure that we keep a hat on his head when outside, but he has grown pretty accustomed, if not quite hip, to keeping the sunglasses on his face.
Caring for a child with AS can be tough, and my brother's family have done a lot to consistently adjust to Zach's needs. This is outside of the need of special beds, wheelchairs, car accommodations, or simple daily assistance. Even though his development is slower than the average child, turning corners can be quick. You have to be on your feet and be prepared for anything, and the kid can surprise you with the way he interacts or problem solves something unexpectedly. Speech and walking is still something to be worked on, but he has developed his own form of communication over time. It would almost seem that his older brother, Ben, is the expert interpreter.
The other day, my brother emailed me with a news story that actor Colin Farrell[imdb] has recently announced that his son also has AS.
Hollywood superstar Colin Farrell yesterday opened his heart and revealed that his four-year-old son James is a special-needs child.

The renowned Irish actor revealed that his treasured son was born with a rare form of cerebral palsy called Angelman Syndrome. […]

And he said that he is dedicated to helping his son reach his own "individual potential" and to be "as happy as he can be."

"With my son the only time I'm reminded that there is something different about him – that he has some deviation of what is perceived to be normal – is when I see him with other four-year-olds.

"Then I go "oh yeah" and it comes back to me. But from day one I felt that he's the way he's meant to be." [independent.ie]
Now it can be said that Farrell has had his share of not so good exposure in the Hollywood limelight, but for those who seek to raise awareness of AS, the actor is doing some good for the cause. His support to the Special Olympics is giving me extra consideration to the fact of the 2010 Paralympic Games coming to Vancouver. They are different events in their own right, but I still hope that I can lend my efforts to help support the cause in Zach's honor as well.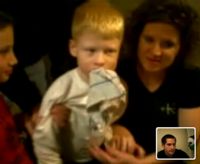 Zach is a strong, little boy right now, and everyday presents new developments. I don't get to see him as much as I used to, but we say hello to each other on iChat every so often. Even there I can tell that his cognitive functions have changed. And when I say that he's strong, that can be an understatement. You never know if he could end up being in the Special Olympics himself, doing some greco-roman wrestling perhaps, and you can ask his older brother about that.
To find out more about Angelman Syndrome, visit angelman.org. Their mission "is to advance the awareness and treatment of Angelman Syndrome through education and information, research, and support for individuals with Angelman Syndrome, their families and other concerned parties."